Posts with the tag: "dirty trash chute"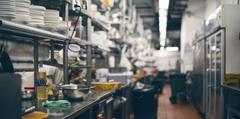 Keep the food in your restaurant compliant and safe from troubling pantry pests with these useful tips.
Preventative measures are the best way to keep pests out of your commercial property. This spring pest control checklist makes keeping them away easy.
A lot of businesses never even think about cleaning out their trash chute. And then, they have to think about it. A lot. Here's why you should start thinking about it now.
<< Previous | 1 2 3 4 | Next >